​
Nowadays, employers are looking for ways to differentiate themselves on the labour market in order to increase the efficiency of their recruitment processes and at the same time have access to the best specialists in the industry. Cpl meets these expectations by offering its clients comprehensive marketing activities as part of their recruitment processes. The Employer Branding service is aimed at building the image of our client's company as an attractive and desirable employer on the market in the opinion of: the company's employees, candidates on the labour market as well as business partners and clients.
Employer Branding, an advertising campaign to support ongoing recruitment processes
As part of the Employer Branding campaign, we prepare and carry out comprehensive promotional and marketing activities aimed at presenting our client's company as an attractive employer in the market. Marketing communication, as part of the Employer Branding campaign, is directed to potential employees in order to support recruitment processes conducted by Cpl for the client.
Employer branding in recruitment
​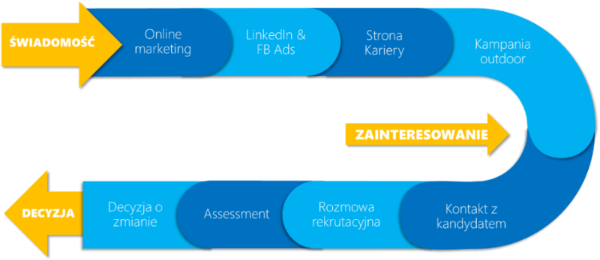 Our work begins with a detailed analysis of the positioning of the client's brand on the market, including the definition of the company's unique characteristics and a competition analysis, through the definition of campaign objectives (KPIs), the selection of appropriate tools and the development of a timetable and budget, ending with the implementation of planned activities - their ongoing optimisation and monitoring. We select communication tools and channels according to the specifics of a given campaign, bearing in mind the individual needs of the client. Together with the client, we build a promotional strategy and create a media plan for the agreed activities.
Why is Employer Branding important?
EFFECTIVE EMPLOYER BRANDING ACTIVITIES GUARANTEE a reduction in recruitment costs and time. Well-tailored marketing activities directly support ongoing recruitment and contribute to more efficient processes.

A STRONG EMPLOYER BRAND means a better fit between candidates and the company culture and lower turnover.

EFFECTIVE EMPLOYER BRANDING SAVES, more spontaneous recruitment to the company (even after the Employer Branding campaign has ended) - including for positions that were not included in the recruitment process at the time of the campaign. This makes Employer Branding activities effective long after the campaign has ended.

CREATIVE EMPLOYER BRANDING GUARANTEES higher employee satisfaction and engagement with their work.

AN ATTRACTIVE EMPLOYER BRAND ATTRACTS NOT ONLY CANDIDATES BUT ALSO CUSTOMERS. Customers are more likely to feel a greater connection with product brands they perceive as good employers in the market.
Strengthen your employer brand and reach the best professionals in the market with us!
Want to find out more - contact us.